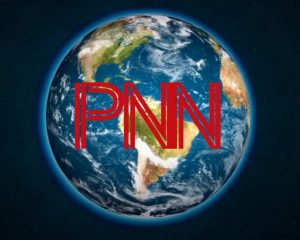 By Alexis Kobane
Staff Writer | The Pacific Times
The Pirate News Network, better known as PNN, has returned for the 2021-22 school year.
The weekly PNN videos show the current events at NP3 High School such as the door decorating competition and spirit week. The first broadcast was Oct. 25.
This term's TV and Media Production class and PNN is being co-taught by Laura Sieglitz, who is new to teaching TV/Media and Nida Qasmi, the previous teacher of the class.
PNN is a collaborative activity for the TV and Media Production class. The class is split into groups that rotate weekly for who will be in the week's PNN video. While one group goes out to record PNN, the rest of the class stays behind to do another activity. Sieglitz and Qasmi take turns teaching these separate groups.
When asked about how she feels about still being a part of PNN, Qasmi stated that she "thinks it's awesome to be a part of the class in general."
The class shares the roles of filming, editing, and writing. Socorro Lemus, a sophomore taking the TV and Media Production class says that her favorite part of the class is that, "It's fun and I get to hang out with my friends." She also said her favorite part of PNN is the filming of the videos.
PNN is mainly run by the students and Sieglitz says that she enjoys "watching them take responsibility for the videos."
Qasmi also said that Sieglitz is "teaching the kids extra techniques in editing which I didn't know about and it's adding rigor to the course."
Both Sieglitz and Qasmi said that their favorite parts of PNN are the bloopers and seeing everyone have fun.