By Christopher Loupeda
Copy-Editor | The Pacific Times
Construction of the new NP3 Elementary School buildings is slated to be completed the first week of June.
Construction is currently taking place near the west side of campus where workers can be seen daily.
NP3 Elementary students are now using the former Paso Verde Elementary School buildings. NP3 Elementary will move into the brand-new facilities once construction is complete.
NP3 executive director Tom Rutten said he was excited for all three NP3 schools — elementary, middle and high — to share the same campus.
"It presents great opportunities for our high school students in terms of internships," said Rutten.
The new buildings cost $10 million dollars, according to Rutten. The project's funding was generated by two school bond measures approved by local voters.
The tax dollars from these bonds were meant to be used to improve local school facilities. The architectural firm PBK is overseeing the project.
"Natomas Unified was nice enough to let us participate in that bond," said Rutten.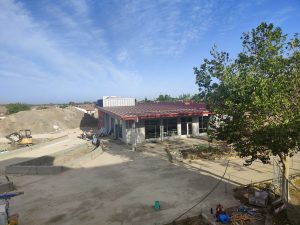 The new construction includes multiple buildings for classrooms, office space and a playground expected to be finished by October. The classrooms will house about 480 students. The new facilities also include a "really needed" library for the younger NP3 children, said Rutten.
The facilities were initially expected to be finished in March 2022, but weather impacted progress.
"We had a walk through a couple weeks ago and looking at it I wouldn't change a thing," said Rutten, praising the natural light and HVAC systems in the new buildings.
"We got to acknowledge the incredible support from Natomas Unified to get this done," said Rutten.
According to Rutten, new facilities could be added to the K-12 NP3 campus if more bond money becomes available from the Natomas Unified School District.