By Isabella Bravo
Staff Writer | The Pacific Times
NP3's American Sign Language Club debuted a sign language music video today on May 19.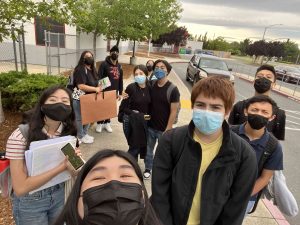 "We chose the song 'We Don't Talk About Bruno' because there was a lot of hype around the movie and the song. A lot of people were really into it," said ASL advisor Alejandro Chan-Artiga, who filmed and edited the video.
All lyrics were translated into American sign language and performed with props and costumes.
"We kept on learning signs and editing the video as we went," says Komal Sharma, ASL Club leader. "We were even learning signs up until the last scene because there were many details and role swaps."
ASL Club member Emilio Lazcano said, "I wanted to participate in the video because I felt it was a good way to interact with others that I normally wouldn't. I saw it as an opportunity with no negatives."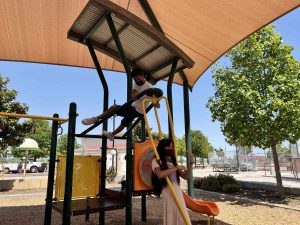 Bernadette Sembrano, another ASL Club leader, said she is grateful for all the hard work students put into the video.
"I loved how all of our club members joined in and took a role," said Sembrano. "Even those who couldn't attend as much still participated in helping everything come together with the prop making and asking people to join and being at the background of the video."
ASL Club filmed their video in different locations such as the amphitheater, quad, different classrooms, and local parks and used handmade props made out of paper, old clothes and cardboard.
"So playing a character in a music video would motivate me to learn more signs," said Jasmine Castillo, who participated in the video . "In my opinion, sign language is easier to learn when there is a rhythm attached to it, so this project was a perfect opportunity for all of us to expand our knowledge while also having fun."
Castillo said she wanted to participate because she enjoys learning ASL.
Also in the video are NP3 staff members Melissa Mori and Max Tyshchenko who both learned short sign language sentences and played small parts.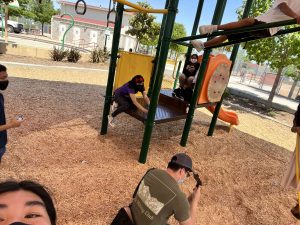 Members of ASL Club learned their parts in sign language and practiced until they were familiar with their part.
"The learning process for my part was essentially me looking up videos of other people signing my character's lyrics," said Castillo. Castillo says that it was difficult in the beginning but it gave her an appreciation for ASL interpreting.
Branden Pavon also participated in acting, learning sign language as well as helping in the editing process.
"My learning process was to memorize everything by repeating the signs over and over again," Pavon said. "I thought ASL is unique since it gets rid of filler words."
Chan-Artiga said that it was the students' enthusiasm for learning ASL that inspired them to begin the project.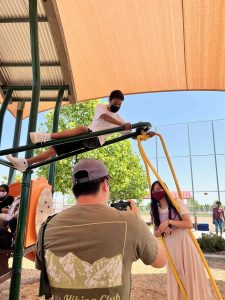 "I think seeing it as just a fun project we could take on," said Chan-Artiga. "It's a great way to end the school year. Just seeing what I've done in the past and just seeing how everyone was so excited for it and just down to do it."
Sharma and Castillo added that they met new friends and made stronger friendships through the project. Students in ASL club agreed that it was a great way to learn ASL and that there were lots of learning opportunities and fun memories from this project.
"The club was a great environment and the first few weeks I genuinely learned a lot," said Lazcano. "It was super fun to see everything come together and see how interested and willing Mr. Alejandro was with filming, staying after school, having a whole field trip to film."
Castillo added that she enjoyed filming, dressing in costumes and making props."All of it was a blast and really strengthened our bond as a club," said Castillo. "The passion we had with this project truly shines through."
Sembrano expressed that it was a great feeling to see members having fun in a club that she started.
"Every single meeting we had to discuss this video and film was always the highlight of my day when I was already having such a hard and long day," Sembrano said. "I was glad and very proud to see the community we built within this club since we were all welcoming, cracked jokes with one another, and no one judged each other."
"It's been refreshing. I enjoyed it a lot." Chan-Artiga added that he wishes for ASL club to continue as the club has much potential. "I just want to encourage any teacher out there. Hey there's a lot of kids who are interested. So I really hope someone could take that on next year to be the advisor and for the club to continue because there's a lot more projects to come out of this."
ASL club's music video can be watched here.