By Alexis Kobane
Staff Writer | The Pacific Times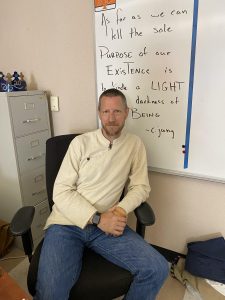 NP3 High School teacher Erik Jones is wrapping up his 15th and final year at NP3.
Jones will move on to be an assistant principal at Rex and Margaret Fortune Early College High School in Elk Grove, Calif.
Along with his new position in Elk Grove, Jones will also continue his doctorate degree in Community, Liberation, Indigenous, and Eco-Psychology. Jones started the process of earning his doctorate degree in August 2021.
Jones has been a teacher for 25 years. NP3 is the fourth school where he has been a teacher.
"He's had a tremendous impact on students," said NP3 High School Principal Melissa Mori. "When graduated students return to campus they look forward to seeing Mr. Jones, so he will be missed."
Throughout his time at NP3, Jones has taught a variety of courses. These courses include both AP and college preparatory English classes in all high school grade levels. Along with English classes, Jones has also taught AP Seminar, Drama, Philosophy, Creative Writing, Yearbook, Critical Thinking, Dual Enrollment ARC – College Composition (ENGWR 300), and Humanities. Humanities has been Jones's favorite to teach.
"It was a course that I created and it's the blending of all of the things that I'm passionate about like the arts, culture, music, the life cycle, and things that make us human," Jones said. "That was a really awesome class."
Jones said he will miss advisory most after leaving NP3.