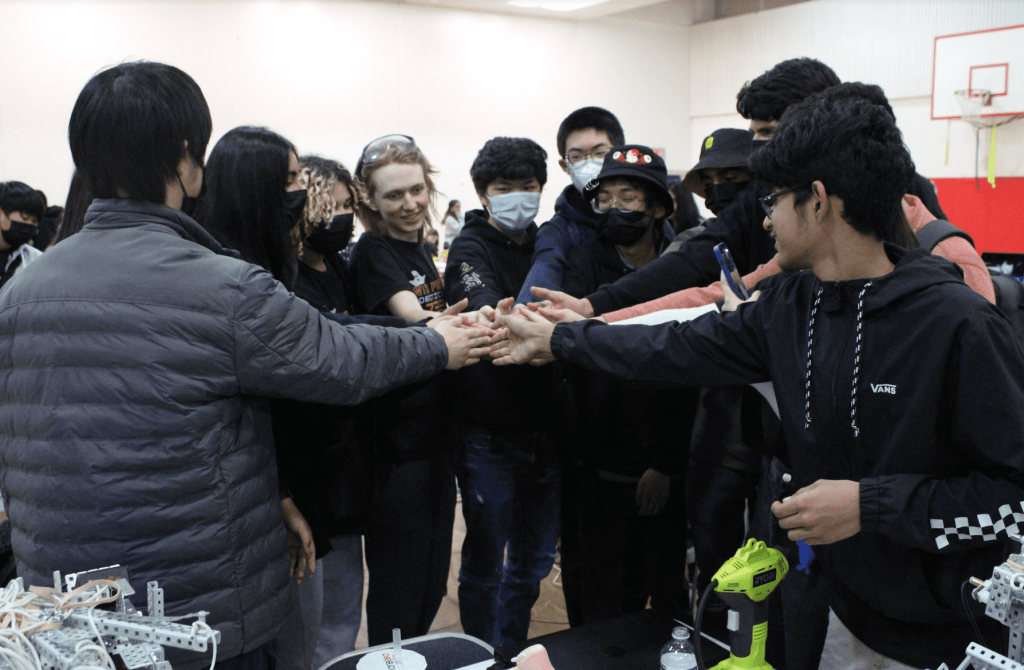 By Krista Chouang
Co-Editor | The Pacific Times
Competition season for NP3's robotics teams is nearly over and two of the four teams, 733B and 733D, have qualified for the state competition.
Every year, team members must build their robot to fulfill a certain set of tasks. This year's robotics challenge is called "Spin Up" in which robots may gain points by scoring disks into a high goal, a low goal, turning a roller, and covering as many tiles on the match field as possible during the last 10 seconds of the match.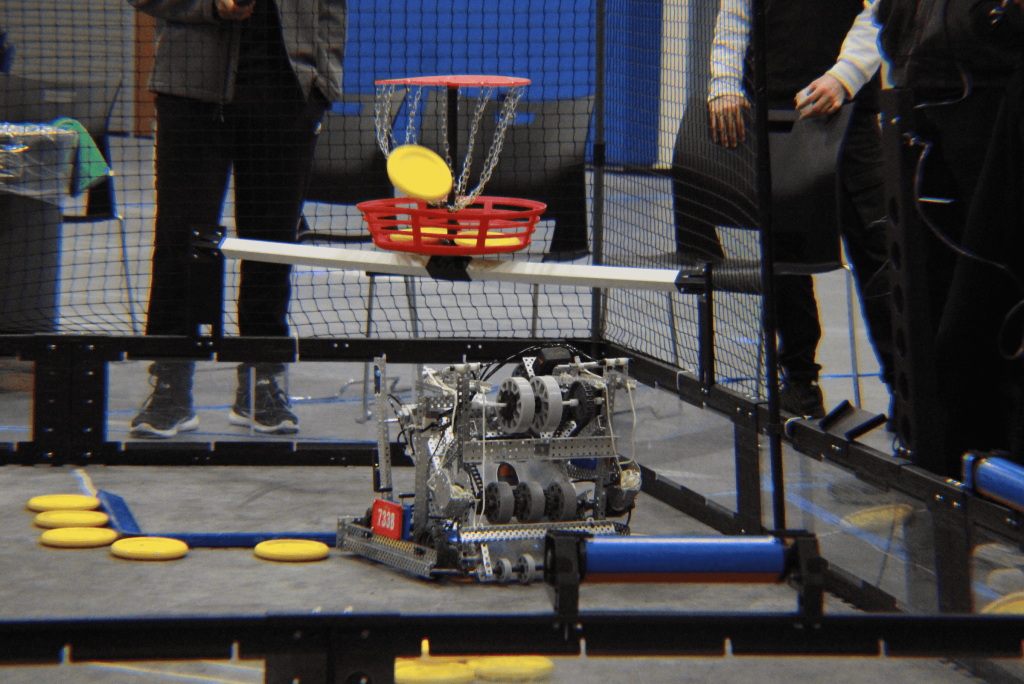 "It was significantly harder because you had to practice much more and prioritize more things," said Team A driver and second-year Mackaelan Songco. "Last year there was only one really important priority, that being goals, but this year there are so many ways to get points so you have to do a lot. As for practice, last year, while we practiced, much more time had to be invested into that because this competition has you moving around the robot a lot."
During each match of a tournament, each team is assigned another team to ally with, and together, they compete against another set of two teams. The alliance that gets the most points wins. During the qualification matches, the teams move up in the overall rankings of the teams, but during the final rounds, the losing team is eliminated.
The teams competed at their first tournament at Cavitt Junior High School on Nov. 13. All of the teams passed the qualification matches, but Teams A and C made it to the quarter finals by allying together.
"I think that the team did really good, better than I anticipated," said coach Jagjeet Kaur. "It was really nice to see how all the newcomers were working together to figure things out, and I thought it'd be more of an anxiety inducing experience but it was really nice to see people feel confident in their robot and perform really nicely."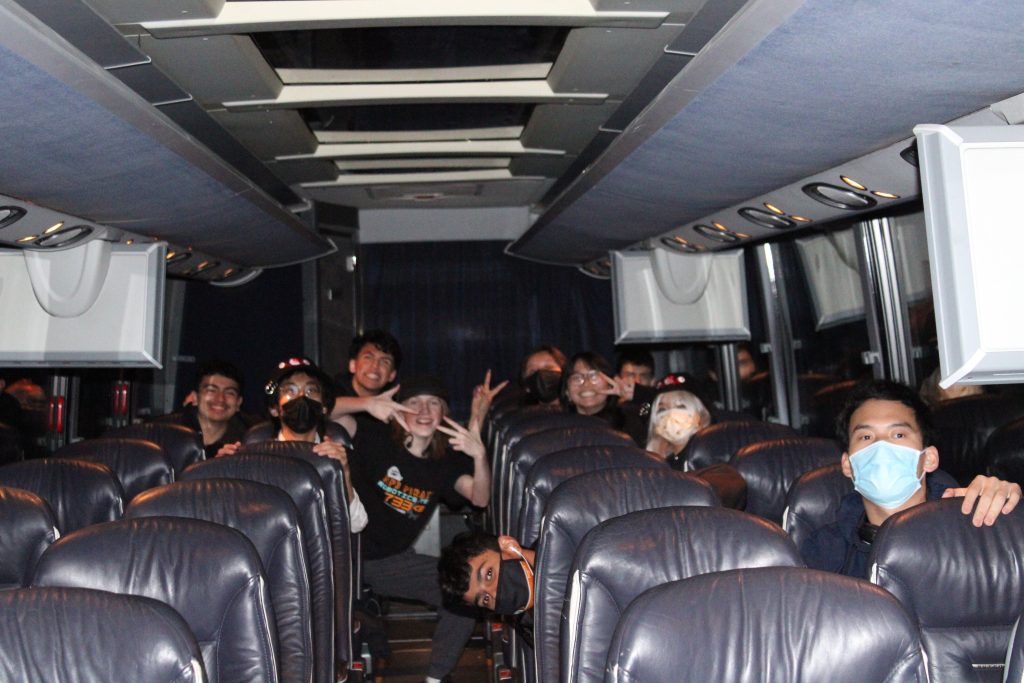 The second tournament took place at Ceres High School on Dec. 3. Teams A, C, and D were able to make it past the qualification rounds, but none of the teams made it to quarter finals. The teams discovered on the bus ride home that Team B won the Design Award, which is awarded to the team with who shows they have the most effective and efficient design process. The award recipient qualifies for the state competition on March 12.
"I was very excited and very happy because like, we won the design award, like we did, and I was super excited," said Team B member Abigail Lewis.
Every team made it past the qualification round during the third tournament at Dublin High School on Jan. 15. Teams A and C allied together and made it past the qualification match and on to the quarter finals. Teams B and D allied together, and although they ultimately lost the qualification match, their intense and effective strategy brought them close to victory.
"Our robot was a bit wonky at the time, so we kinda had to improvise and the strategy that we felt worked out best was playing hard defense by pushing around our opponents and allowing our alliance to get goals," said Team D driver Ryan Bonser. "It worked really well and I wanted to do it again, but then I realized our robot's better so maybe I should try doing a bit of offense, but then that ended up not going too well and then I ended up doing defense anyways."
Seven members from across the teams dressed up in various onesies to raise morale.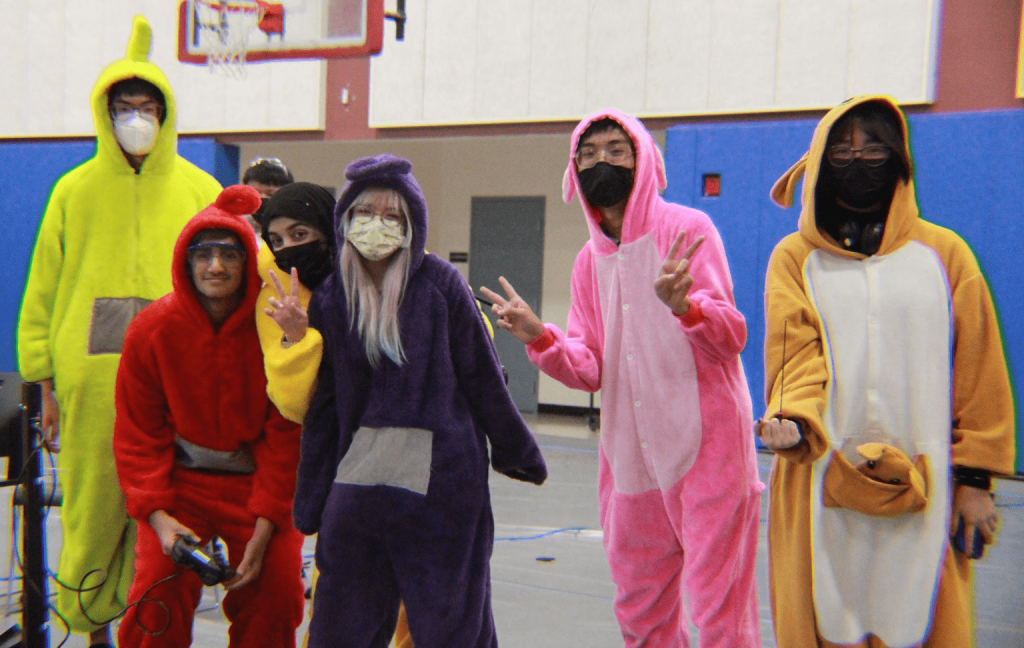 "When I was at worlds, I saw a lot of people in costumes, onesies, and a bunch of matching things, and I thought to myself that I wanted to be just like them, so for this year I ordered my team matching bucket hats," said Team C member Vivian Mai. "I try my best to project the energy that made me smile and have others smile too."
The teams' most recent tournament was in Milpitas competing against over 60 other teams, including teams that competed in the previous world championship. Since Team C opted out of the tournament because they were in the process of rebuilding their entire robot, only Teams A, B, and D competed. None of the teams made it to the qualification round.
"After the competition, some members of our robotics team went to a boba shop called iTea, and I have to say it was one of the most memorable moments I had during robotics," said Team D member Surya Tanikella. "Everyone forgot about all the stress of trying to win and were just able to enjoy being teenagers."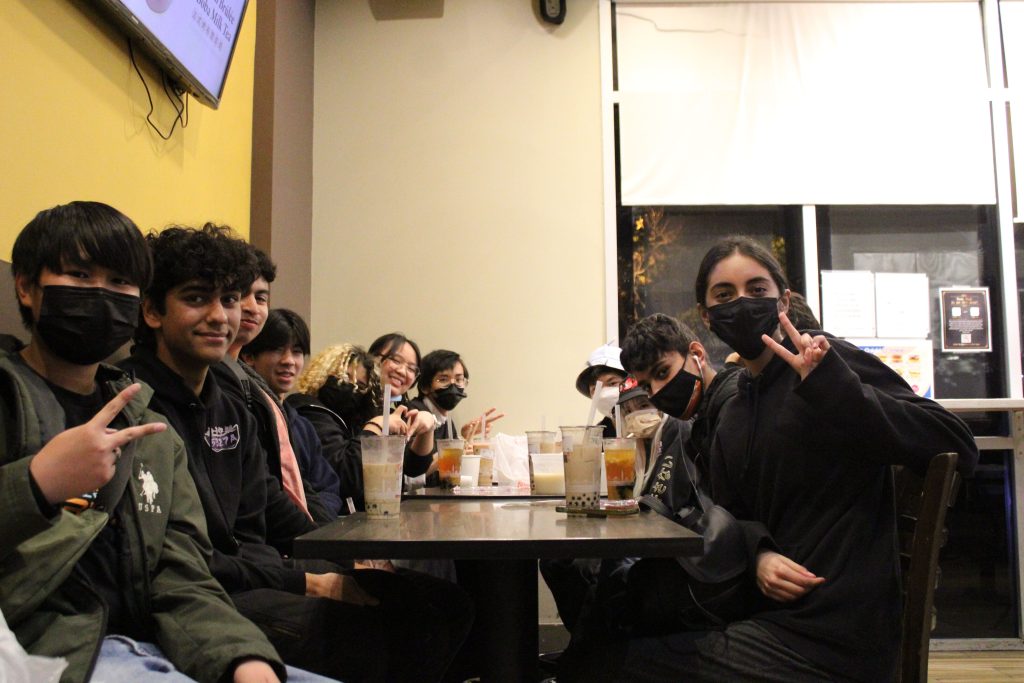 During the Milpitas tournament, the alliance team of Team A did not show up to their match. Instead of attempting to play alone against two other teams, Team A's drive team met with one of those teams they were playing against, the Cheesy Poofs, and agreed to have fun during the match instead of playing seriously.
"It started out as just mingling with one of the teams before queuing, 254R, and they asked us how they can beat our robot," said Songco. "I thought it would be funny so I told them… We knew we would lose because our robot was not in the best condition at this time so we asked if we could throw the game for practicing shooting into high goals…it was a really fun match to do and I think other people found it funny, hopefully, maybe, probably. During it we shot into their goal, they shot into ours and at the end we decided to just have our robots spin around because why not. It's probably one of my favorite matches we had."
At the Saratoga High School tournament on Feb. 12, Team B was able to win all of their qualification matches and get to the quarterfinals.
Teams A, C, and D had one more opportunity to make it into the state competition with their last tournament on Feb. 25 at Ceres High School.
"Compared to the last one I feel lots more prepared, because we have a better string launcher and we were able to troubleshoot a lot of our issues that we had from our previous competitions, and we were able to fix those issues," said Tanikella. "So that should give us a higher advantage for this time."
At Ceres High School, the majority of the teams wore suits for their last competition. Teams A, B, and C were able to make it to the quarterfinals. Teams A and C allied together and went to the semifinals. Team D won the Design Award and will be competing at the state competition with Team B.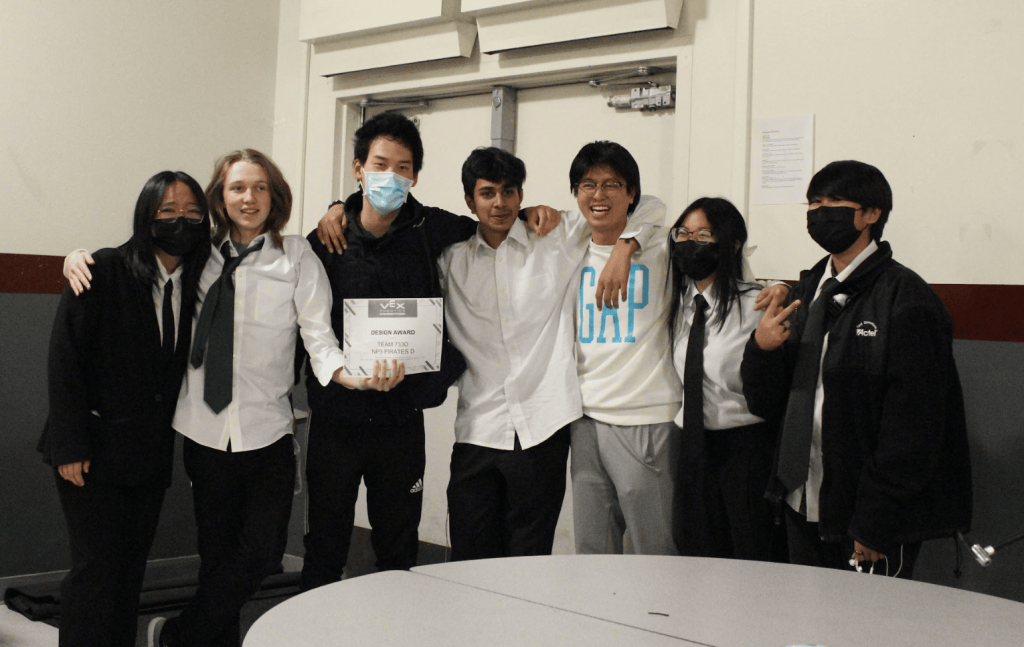 "It was a surreal moment," said Team D member Jolene Phung. "I was so overwhelmed with joy that I couldn't process that we won! I definitely cried on the way back once it fully hit me though. I'm so proud of my team because we all worked so hard for it. Go 733D!"