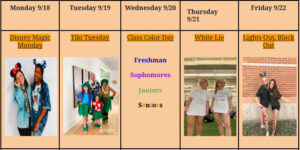 By Isabella Bravo
Copy-Editor | The Pacific Times
Days for the upcoming Homecoming Spirit Week starting Sept. 18 were announced today in advisory.
A Google Form was sent out last week for students to choose the spirit days they wanted most. Spirit days often relate to the Homecoming theme or Homecoming basketball game.
Monday, Sept. 18, will be Disney Day. Dressing like Disney characters or Disney-themed is encouraged.
Tuesday, Sept. 19, is a tropical theme.
Wednesday, Sept. 20 is a class color day where students can dress out in their color to show spirit during class chants happening in advisory.
Thursday, Sept. 21, is white lie day. Students can write white lies about themselves on their shirts.
Friday, Sept. 22, is Black Out, students are encouraged to dress completely in black.