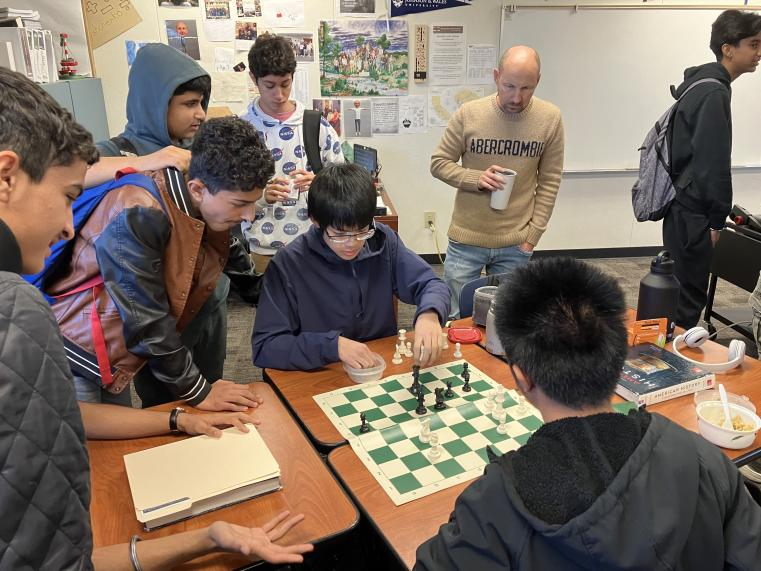 By Tayeb Rahman
Staff Writer | The Pacific Times
During the past few months, students in the Chess Club played in a Chess tournament, learning and improving their skills on the board.
Around 30 students signed up to play in the tournament around the beginning of the year. These students played in matches against each other. In chess, there are ratings which show the skill of a player. There were no rating requirements to play, allowing students of all levels to join in on the fun.
Students were split into two groups in the beginning: group A and group B. They played on physical chess boards with spectators and friends watching around them. They could eat their lunch, joke around, and be casual with their friends while playing their tournament games.
After these matches, the Tournament paused for Fall Break. School started once more and the students resumed the Tournament. The students who had lost in the beginning were signed up for a losers bracket in the tournament.
The first tie of the tournament was between Alex Lao and George Naing. This was settled after they played each other once again in a five-minute blitz game. Lao, the winner of the rematch, says, "I really enjoyed playing my game against George. It was a challenge for me and my opponent played great, and I only barely won our match".
The Grand Finale games occurred on Nov. 7. Mustafa Ghulam Sakhi fought against Alvin Ao. During the middle game, Sahki resigned. Ao would proceed to fight Lao in the last match of the Tournament. Friends and spectators watched closely. The match was intense. Ao was running out of time on his chess clock, and people believed Lao would win due to his time advantage. In the end, Ao was victorious, winning with only two seconds left on his clock. If he had run out of time, Lao would have won. This close win was an impressive surprise to the people who watched.
This position shows a black Knight on F5 which prevents the black Queen on G7 from being taken. The black Queen checkmates the white King. Ao wins first place; Lao wins second place; and Sakhi wins third place.