By Isabel Penman
Co-Editor | The Pacific Times
On the morning of Friday, March 8 word spread on the NP3 High School campus that a student-led protest was going to take place later that day on campus during third period.
The protest took the form of a peaceful school walkout to protest the shooting of Stephon Clark that occurred last year.
On March 18, 2018, two Sacramento Police officers shot Clark following a foot pursuit. It was later determined that Clark, a 22-year-old African American man, was unarmed at the time of the shooting.
Almost a year later, on Saturday, March 2, 2019, Sacramento District Attorney Anne Marie Schubert announced criminal charges would not be filed against the two officers who shot Clark. California Attorney General Xavier Becerra announced on Tuesday, March 5 that the state would also not be pressing charges against the two officers.
These decisions sparked Sacramento-area high school and college students to stage protests throughout the week that followed, including NP3 High.
At around 11:59 a.m on March 8, students began to walk to their third period classes. A small group of sophomores and juniors with posters took a stand on a lunch table in the school quad. Students, led by NP3 student Zanub Mustfasa, walked into the office, starting what they planned to be their march to the Westlake Park located across the street from the school.
The students held signs that read "Stop Killing Us" and "Justice 4 Stephon Clark."
Around five minutes later, the crowd of about 20 students which marched into the school's front office was directed back into the school by the administration, with the exception of a few of the walkout organizers who continued to stand outside the school gates with Principal Melissa Mori. The walkout organizers moved to stand by one of the school's locked gates which separated them and the rest of the crowd still on school grounds. As the protest leaders outside chanted to students within, more were drawn to the scene.
As the organizers began chanting "What do we want? Justice! When do we want it? Now!" a few students began climbing over the fence to stand with their peers on the other side.
"We are doing this because Stephon Clark was not the only one this is happening to. No guns, no weapons. He was just a normal guy. He had a mom and a dad. It is not like this is the first time. It hurts more when it is someone in your own community. When it is in your own community you have to do something," said Mustfasa, one of the main organizers of the protest.
The school administration focused on the students' safety, not commenting on the subject of the protest itself.
"We are letting them do their thing. We are going to let them do their thing in the quad, let them say what they want to say," said NP3 Dean of Students Shawn Mcguire, as he supervised the crowd within the school grounds.
Principal Mori, who supervised students while they stood outside the school gate, started directing all students toward the quad area.
"We are encouraging them to come into the quad, to demonstrate peacefully in the quad to ensure student safety," said Mori.
NP3 Deputy Director Sharon Maccini watched the events but declined to comment for this article.
The student organizers of the march stood on a table in the middle of the quad, centering the walkout and their comments about the shooting of Stephon Clark and their own personal testimonies.
"This is not a joke. It is so sad that black people have to be out here and get shot all of the time. This (expletive) is so (expletive) serious. People are getting killed. This isn't a joke. Thank you to the teachers who are here supporting this. Thank you to everyone who is here," said sophomore Titi Ogbola, moved to tears as she spoke.
"If you are here just because you think it is cool, if you don't actually think justice needs to be served then get your (expletive) to class," shouted another student who stood on the quad table in response to students laughing and jeering from the crowd.
More students were moved to tears as they took turns sharing their personal ties to the issues of police brutality and racism.
D'Andre Berry, a middle school teacher, watched the walkout from the middle school side of the campus.
"This is fine. I just wonder the reason people are late here if you really care about black people. Is this just a thing to do, or do you really care? And if you care, what are you doing in other parts of your life?" said Berry.
At about 12:30 p.m., high school teacher Jennifer Hembree walked out from her classroom and stood on another table adjacent to the student crowd.
"You should be embarrassed, students coming out here to skip class. This problem is systemic. This is not how you do it. This stuff deserves more than this, this stuff matters more," said Hembree right before she abruptly walked back to her classroom.
The students only responded chanting, "No! No! No!"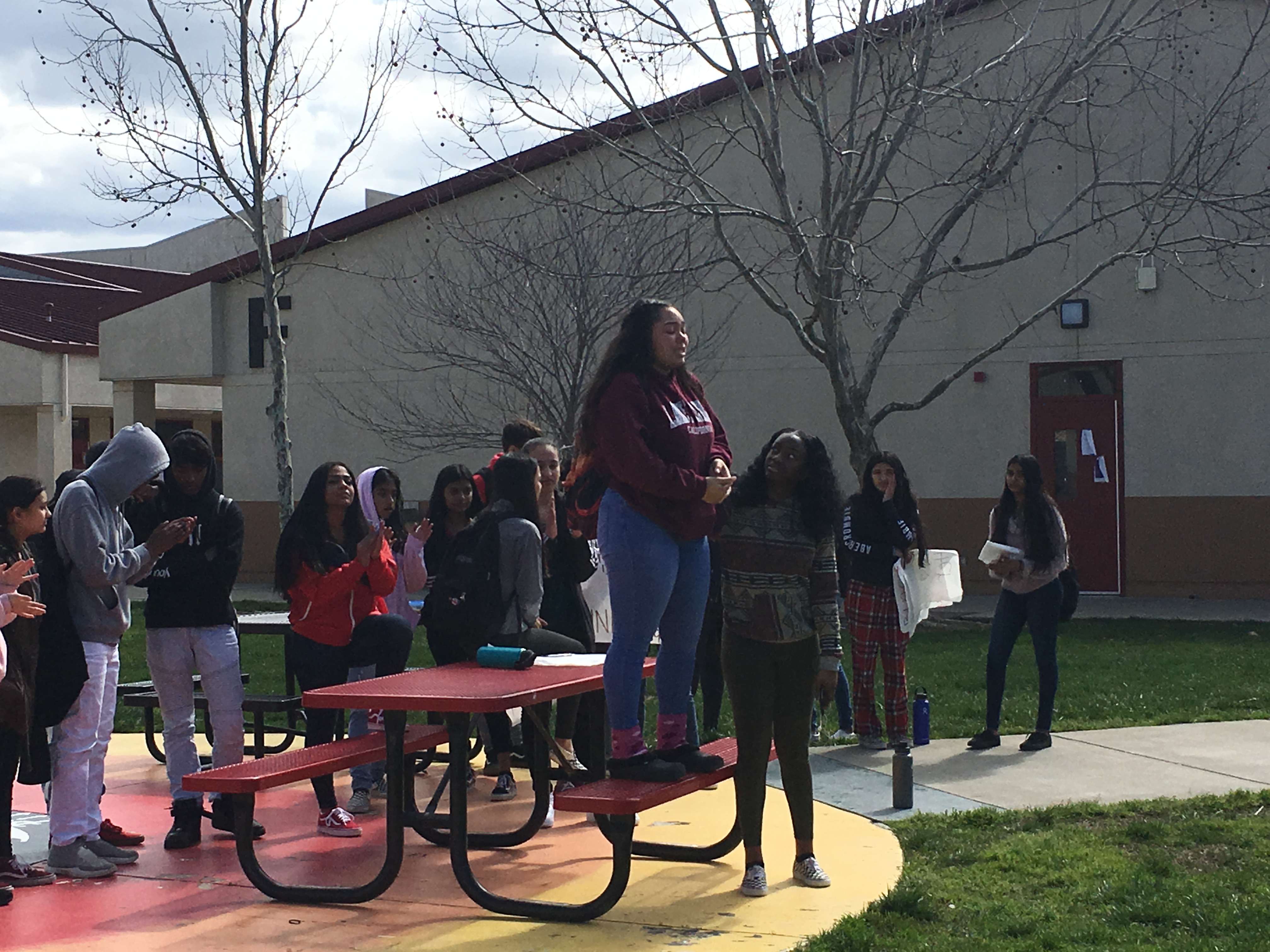 "We are here for one reason. We are not here to start any problems with our school or our teachers. We all believe in equality. We all believe in the same thing. We should all be doing this together," said sophomore Aasiya Malik to the crowd.
"He had two kids under the age of two, both under the age of two. Do something! Be real! Believe in something," said Rinnah Rafanan, a current senior, through tears as she stepped down from the table herself.
"As a black male living in this society, this (expletive) is hard. I can't leave the house without my mom saying to take your hoodie off, take your hoodie off, Donald. The police are shooting down my kind. Why are they shooting us?" said freshman Donald Shipp.
"If you believe what we are doing is right, take one step forward. If you believe black lives matter, take one step forward. If you think that it is not okay to wrongly accuse a person because of their color take two steps forward," said freshman Julie Murray as she stood on the table and directed the crowd until they were only a few feet away.
After a few more student speakers, the entire crowd of students began walking around the quad and chanting, being led by Mustfasa and other student leaders.
After about 35 minutes of marching, the students made their way back to the center of the quad and finished giving more individual testimonies. They left the table open for anyone else who wanted to say something.
"I want you to recognize this. Admin was so quick to let them do something for the Parkland shooting victims, but not now. Mrs. Hembree was right. This is systemic. We need to find our way out," said Austin Gilreath, a senior, referring to an NP3 student-led walkout that took place last year in response to the Parkland school shooting in Florida.
As the walkout leaders stepped down from the table and joined the crowd, students began to converse amongst themselves, discussing Clark's shooting and police brutality.
"It should be a lot deeper than this. This is awareness but we need to take action. Just speaking about this is not going to do anything. We need to get in the system. This is good, but it is only awareness," said Gilreath.
The walkout did not disperse until well after 1 p.m., even after administration asked them to make way for the middle school lunch which begins at 1:04 p.m.