By Jireh Owen
Staff Writer | The Pacific Times
As quarantine continues into the year of 2021, some people have pinned their hopes on music to help get them through the boredom.
"I listen to music on Pandora when I'm exercising and stand-up comedy when I'm working," said NP3 High P.E teacher, Casey Harris.
Many people listen to many kinds of music during quarantine whether they are working like Harris or doing chores like Melissa Ciubal, a NP3 English teacher.
But Ciubal reported, "I listen to music during quiet work time in distance learning classes, while exercising, and while completing chores around the house."
"I listen to music for half an hour, minimum, each day. While on average, I listen to two-three hours of music," said Rachel Long, a junior.
Mark Teterin, a sophomore, says that he listens to music "a couple of times a day." Music is very widely known and listened to a lot during daily life and especially in quarantine according to Teterin, Long, Harris, and Ciubal.
"Since quarantine started, I've been listening to more upbeat music to lift my mood and more soothing music to calm me down from the craziness that is 2020 and 2021," said Ciubal.
Music has changed people's lives in quarantine according to Teterin, Long, and Harris.
"Music changed my life in quarantine because it gives me peace and helps my brain to rest from all of the school work," said Teterin.
"Music has the inability to affect our perspective and emotion. In a time where you can't interact with others and don't know what's going on, it kind of calms you down during tense situations and it helps me adapt my mood to my circumstances in a beneficial way," said Long.
Whether quarantine happened or not, music still shaped the lives of many individuals according to Harris, Long, and Teterin. For instance, Harris explained that when he was a kid and saw the band, PHISH, he fell in love with music and was "amazed with the guitar player." Currently, he's learning how to play the piano.
"The two main genres that I listen to is Christian/Gospel and a little of Alternative/Indie," said Teterin.
Music comes in different forms and genres to match the different tastes people have in music. While others like Ciubal, Long, and Harris have diverse tastes in many tunes.
Ciubal likes to listen to "lo-fi hip hop, musicals, rock, jazz, hip hop, ambient, alternative, indie folk, and classical" music.
Long enjoys listening to classical, instrumental, pop, and electronic dance music. But she said that most of the time, it depends on her current situation.
Harris delights in listening to rock, reggae, heavy-metal, and rap music.
"My favorite song right now is "No Surprises" by Radiohead," said Ciubal. She also included, to no surprise, that her favorite artists are Radiohead and The National.
Here are some of the favorite songs and artists from others: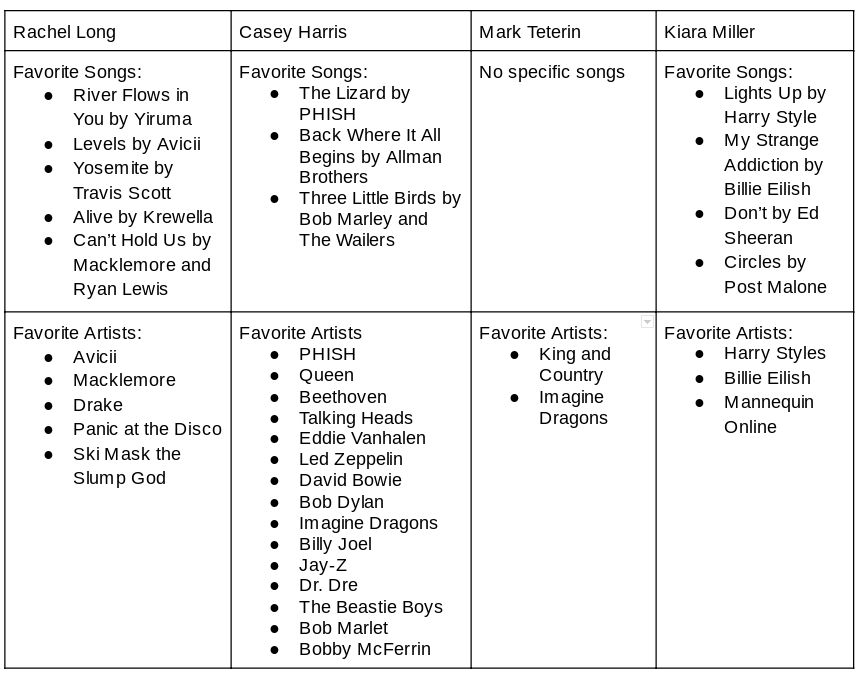 To those people not listening to music, Harris said, "Give it a chance, be open-minded. Music has the power to affect emotion and feeling (joy or sadness). It can just help change your mindset and hopefully put you in a better mood."
Long added, "You're missing out on something great. It's like not being able to have sensory feelings."
Ciubal and NP3 High 10th grader Kiara Miller strongly agree.
Miller says, "Listen to music because you could realize and experience many new things about yourself and others."
So, during this time in quarantine, go venture in and discover a new world of music and art. What are some of your favorite music and artists?