By Hadia Ahmad
Staff Writer | The Pacific Times
NP3 Middle School has mixed opinions about distance learning made necessary by the COVID-19 pandemic.
In January 2021, NP3 middle schoolers responded to a survey from The Pacific Times asking about their experiences with distance learning, clubs, and activities. The survey was emailed to every NP3 Middle School advisory teacher and posted in each Google Classroom; several teachers were also interviewed.
Out of 507 NP3 Middle School students, 217 responded to the survey. Half of the responses were from sixth graders and the remaining two-fourths were equally split between seventh and eighth graders.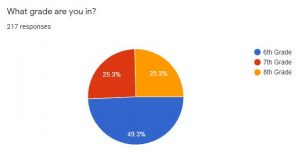 When asked how distance learning has been, the majority of the NP3 middle schoolers expressed that it's been neutral; not too great, nor too bad.
A majority of students — more than 67% — reported that distance learning has been okay. Just over 20% of students said they don't like distance learning at all, while nearly 11% said they loved it. About 2% responded "other," writing in responses that included their opinion on distance learning changes a lot, they don't care much, and they like distance learning more than in-person school.
When rating their distance learning experience from a scale of one to five, one being the worst and five being the best, most students — more than 39% — indicated they felt neutral about distance learning.
Just 12% of students who responded to the survey said they "did not like" distance learning compared to 6.5% who indicated they "really enjoy distance learning." About 23% of students rated distance learning between disliking it and feeling neutral, the remaining 18% rated distance learning between neutral and enjoying it.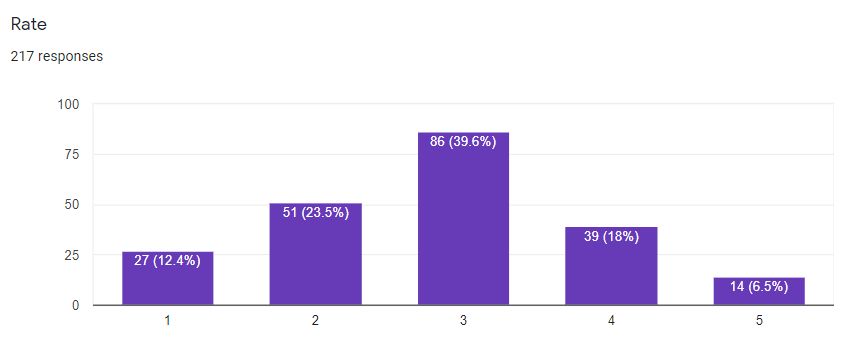 "It's been good. I think the teachers are doing really good to make it as fun as possible," said eighth grader Gia Bedi. "It's really hard for the teachers to help everyone at the same time and I'm more adjusted to the system."
When asked what their biggest struggle with distance learning is, many NP3 Middle School students responded that they experienced WiFi issues and had trouble staying motivated.
"Computer issues and going at your own pace so you have to rush to get work done have been hard for me," one 8th grader wrote.
Many students expressed that a positive side of distance learning is that they get to do everything from the comfort of their own home.
"I enjoy not having to wake up as early as I used to when I was in person," said 7th grader Ashely Draper. "I also like that I get to take more breaks throughout the day which is nice because I get to rest."
Several students shared their disappointment at losing a year to the pandemic.
"I am ready for high school and I've been waiting to see how COVID is gonna work," said Bedi. "I don't wanna go to high school in distance learning and I wanna start off fresh to get the whole experience."
Teachers and staff have also had strong feelings about teaching via Zoom.
Some middle school teachers indicated that they have enjoyed learning more about how to use technology in a learning environment. The teachers said they noticed that the use of virtual learning has caused their introverted students to feel obligated to participate and share their ideas during class.
Overall, both teachers and students are using this difficult time to persevere and gain new skills.
"The positive is students really responding to the 9 a.m. start time which has been helpful because they are more awake," said Ashley Silas, eighth grade social studies teacher and student government advisor. "Attendance has been phenomenal and students come to live classes every day while participating and being on time."
However, there are some unfavorable aspects of online learning. According to Kelsey Holdredge, seventh grade English teacher, both teaching and learning is difficult due to the infrequency of class sessions and interactions.
"A negative about distance learning is not being in person, especially for students who are super social and benefit from in person instruction," said Silas. "I miss the kids and I want to be around kids and it's a huge negative. It's hard to know which areas students need help with; hard to give feedback."
Despite the downsides, there are many things to anticipate for the return to in-person learning.
"I'm looking forward to possibly having more kids come back on campus," said middle school counselor Taniia Edwards. "I've also been looking forward to learning more about tech that I've ever learned before. Stay in the present and worry about your day to day, it'll be over before you know it!"
Although this transition hasn't been easy for them, the middle school has continued to show resiliency by keeping their action teams active and holding many fun events.
When asked if it was difficult for students to strive to keep their clubs active, teachers claimed it wasn't.
"They have such big goals and ideas of what this can look like online," said Courtney Snelling, eighth grade English teacher. "They are really driving and very avid readers."
Many responded that events were satisfyingly successful.
"We've had pretty consistent attendance," said Silas. "I have between 15 to over 100 kids showing up during events. It averages to 20-25 kids."
Some examples of events are movie nights, game nights, cooking competitions, and yoga sessions. Students worked hard to make events that cater to many students' interests.
"I enjoyed the game night event and 'Among Us' event because the other things weren't the things I like to do," said sixth grader Aubree Ehlar. "I'm more interested in video games and I love playing games, so I'm kind of like a gamer girl. The events were fun and I got to do really fun things and things we wouldn't be able to do in class."
Despite the hardships that come with adjusting to pandemic school life, teachers said they encourage students to keep up the great work.
"Make sure you have a schedule for yourself," said Tipkretar Carey, sixth grade English teacher. "If you're not used to having a routine, it's hard to get motivated. Don't make yourself work for countless hours. Our school has done an awesome job handling this and all of the teachers have been dedicated to supporting students!"