By Guy Gong
Staff Writer | The Pacific Times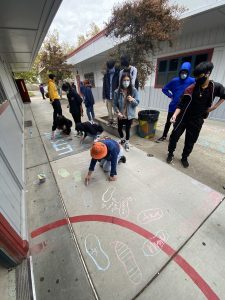 On Unity Day, all advisories at NP3 High School chalked motivational messages on the ground in order to discourage bullying and to promote unity among peers.

Students were given the task of creating messages to be encouraging. The messages and drawings were on the concrete near their respective classrooms, divided by the box shapes of the concrete. During the creation process, it started to lightly rain, but students persisted through the rain. Unity Day was on Oct. 20.

October is National Bullying Prevention Month, a time to raise awareness about bullying and to try to prevent it. Many groups across the country make efforts to raise awareness about bullying, Unity Day is one of these efforts. During Anti-Bullying Month, people are encouraged to be inclusive and create unity within their communities. Acceptance of marginalized communities is also encouraged.

Unity Day focused on anti-bullying efforts. According to Pacer, the national bullying prevention center, bullying is often disregarded in society. Also according to Pacer, Unity Day seeks to bring the nation together to send the message that bullying is never okay and that students have the right to safety in all spaces.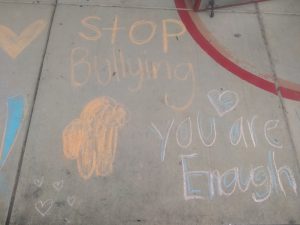 While Unity Day was meant to encourage anti-bullying efforts, most messages were generally motivational. Messages were often accompanied by pictures or drawings. Students showed their creativity, fusing pop culture references and the message of Unity Day into their murals. For example, along with writing "Stop Bullying. You are enough," one student drew a character from Among Us, a popular video game, in their mural. Students also used puns in their messages. One student wrote, "Donut Give up," and drew a donut on the O of the mural. Overall, it was a time for students to show their creativity and positivity.

When asked about the event, participant Krista Chouang said, "It was a really fun event. We got to work together to draw positive messages on the ground at the same time as other advisories. We shared chalk with each other. My advisory had to trace each other's feet so that was pretty fun."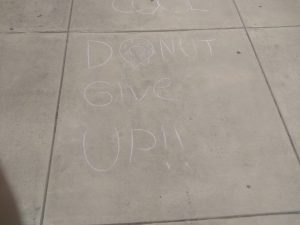 Another participant Jack Fedor, when asked about the execution of the event, said, "I think the student government executed it as well as they could, but requiring students to participate and possibly changing the date and giving everyone a chance to go witness the drawings would've been a good idea. I wanted the date to be changed because the drawings were messed up by the rain." The murals were washed away by the heavy rains that occurred in the following days.

The idea of participating in Unity Day originated from counselor Kelly Clancey and the student government. According to her, "It was Student Government's intent to kick off Bullying prevention and intervention efforts through possibly creating short videos, sidewalk chalk messaging, and daily announcements. It was difficult to get information out about the event because the idea came to fruition over Fall break and the event was only a matter of days after we returned from break."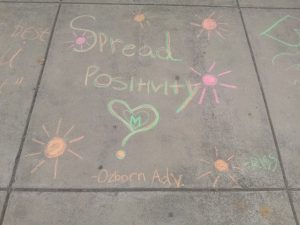 When speaking on any future Unity Day events, Clancey responded, "I hope we can plan for a Unity day event again in the future with more advance."