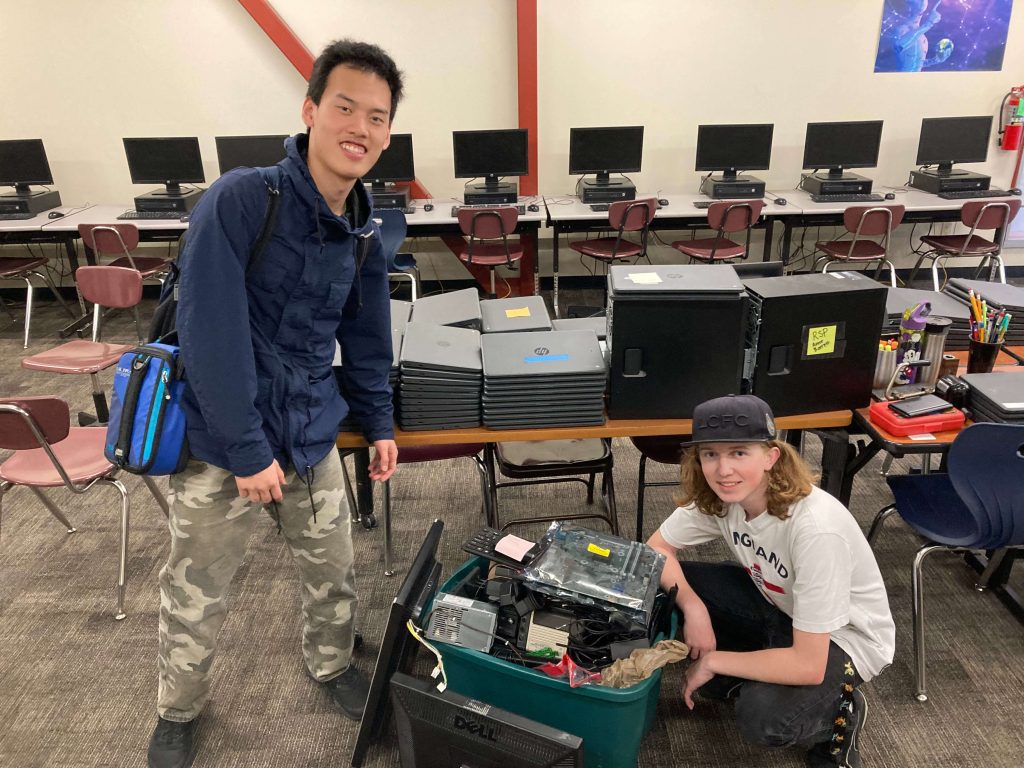 By Guy Gong
Staff Writer | The Pacific Times
Two teams from NP3 High School participated in the 2023 SMUD Youth Energy Summit.
The SMUD Youth Energy summit is a competition hosted by SMUD that seeks to promote environmental awareness. Teams of high school students across California work together to make positive impacts on their communities through projects and compete to create a project most fit for the goals of the competition.
The goals of the SMUD Youth Energy Summit are different every year. In 2023, the focus of the competition was on zero carbon emissions. Teams had to design projects that spread awareness about carbon emissions or to reduce carbon emissions within their communities. The winning teams received a $2000 scholarship. Only juniors and seniors are allowed to participate.
Teams first had to create a two-minute video that showed the plans for their projects. The videos were due by Feb. 17. Teams then had to execute the plans for their projects and create a presentation scored by judges to show what they achieved. Presentations were held between April 17 and April 20. Presentations were expected to be ten minutes long with time for questioning by judges. The winning teams were announced on April 28.
There were four winners: Team Soteria from Vista Del Lago High School, ANTIC from Vista Del Lago High School, Team Pikachu from Mira Loma High School, and Team Rocket from Cordova High School.
The two participating NP3 teams included the NP3 Buccaneers and Monkey Mania. Monkey Mania members were Julian Padilla, Darin Tau, Lex Phillips and Hashim Gondal. The NP3 Buccaneers included Jireh Owen, Stefan Susu, Viktor Ramirez and Guy Gong.
Team Monkey Mania's project for the competition was to recycle the school's trash for money to help raise money to fund on-campus clubs.
"We chose this project because all of the recycles from the school are thrown away and aren't actually being recycled so this was a way to stop that," said Padilla
The team was able to set up a weekly pick-up time every Friday. They collected recyclables from classrooms and exchanged the recyclables for money later that day. This stopped the recyclables from ending up in landfills.
"One difficulty we had is that students and teachers would throw away their bottles and cans instead of recycling them hurting the total amount of money raised for clubs, another is some classrooms do not have recycle bins so we are losing recycling that way too" said Padilla.
Added Padilla, "A couple successes we had was raising a lot of money for clubs, getting just seventy in one week alone and being able to adequately fund school clubs."
If they could start over, Padilla said they would try to host recycle drives. However, they plan to continue the project and intend to make improvements throughout their senior year.
Team Monkey Mania hopes students help in the future by donating more recyclables.
"I will definitely be participating in next year's Youth Energy Summit as I think it is a good competition that helps you and your community but gives you the chance to win 2000 dollars in scholarship money," said Padilla.
Team NP3 Buccaneers's project was about e-waste recycling. Team members collected electronic waste from NP3 High School and around the local community. The project also spread awareness about e-waste which included infographic flyers that were hung around the school.
"We chose this project because it was something unique and interesting to all of us. It was unique in terms of the fact that we haven't seen any projects based on this in the past competitions. And overall, the idea seemed fairly simple and straightforward enough," said Owen.
Added Owen, "Unfortunately, we weren't able to implement other ideas that we had for the project."
The team planned to create an informational video regarding e-waste pollution. They also planned to host tutorials. They were not able to complete these plans due to lack of preparation, Owen said.
"Some obstacles that we encountered was the lack of availability from some of our teammates at times. So, we didn't have many opportunities to meet together and discuss the next steps for our project," said Owen. Owen said students preparing to take AP tests took away a lot of the group's time and focus.
"The most important thing was that we managed to complete and finish the project," said Owen.
If he could do anything differently, Owen said that he would have created a better plan to balance the project workload more evenly.
When asked if he will participate in next year's competition, Owen said he is unsure.
"Honestly, it depends on how free I am next year because as mentioned before, AP testing does occur around that time and I might not have the energy to compete during that period," said Owen.