By Berkeley Boyd
Staff Writer | The Pacific Times
Michael Maccini has been involved in the NP3 community since 2019, acting as a substitute teacher for some of the math classes and an assistant in study skills. However, this is the first Maccini's first year officially teaching at NP3. 
Maccini was born and raised in Sacramento and played soccer in elementary school. He achieved a bachelor's in science at UC Davis in plant biology. 
"I like getting students excited about learning, and math in general," said Maccini, when asked his favorite thing about teaching.
Maccini obtained teaching experience from tutoring geometry during Ina Flores's maternity leave. 
"The community, the students and staff that work together,' said Maccini about NP3. "It is super inviting and inclusive, and everyone feels welcome."
Maccini's hobbies are hiking through forests, collecting music records, biking along the American River, and playing video games.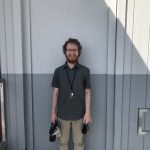 When asked what his favorite games were, Maccini said, "You know what, I will keep it a secret and keep people guessing."
Maccini's favorite vacation was a trip two years ago to Death Valley, Mono Lake, and Bristlecone Pine Forest. He remembered how lucky he was to visit these places before winter and the 2020 lockdown. In the future, he said he would like to take camping trips to Oregon, Washington, and Alaska. 
Burritos and pizza are Maccini's favorite foods. While Maccini said he does not have any pet peeves, he does have a pet — a 6-year-old Jack-Russel Terrier named Phoebe which he loves very much.
"I'm excited to be here and part of the NP3 community," he said.