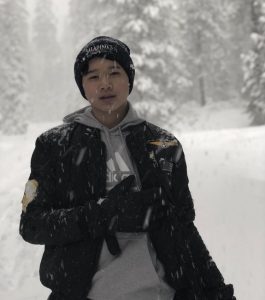 By Jack Fedor
Co-Editor | The Pacific Times
"I want to be in the Air Force because two out of my three sisters are enrolled in it. They always told me that if you want a head start in life, join a branch and travel the world," said Anthony Thang.
Thang is student government's representative to the NP3 board of trustees.
Thang has lived in Natomas for all of his life, but one day he would like to live in South Korea.
"I want to live in South Korea because my sister used to live there and her experience seemed really exciting! The food and cuisine there seem to be very appetizing and prices can be very reasonable," said Thang.
Thang's favorite experience of his life so far was when he traveled to Thailand three years ago.
"It was just a new experience seeing new foods, cultures, and it was a well spent time with my family," said Thang.
Thang's favorite experience at NP3 was the first game at NP3's 2018 homecoming.
"It was my first basketball game in front of a school and it was really fun and exciting when I hit the game winner," said Thang.
Thang loves to participate in spontaneous events as his family never makes plans. Thang also enjoys social events because he has the most fun with people he is comfortable with.
Thang really enjoys video games and basketball as he competes at a competitive level in both of them.
Burgers and Pho are two of Thang's favorite dishes, while some of his favorite music is soft melody music and pop.
Another activity Thang enjoys participating in is collecting souvenirs from foreign countries and states.
In addition to serving in the Air Force, one of Thang's goals in life is to be a doctor or a pharmacist.
"I want to be in the medical field because my parents loved the idea of their children being in the medical field. I was also intrigued because my aunt is a nurse and I am able to gain a plethora of experiences within her department," said Thang.
Thang's would like to provide for his family as much as his dad does.
Thang added, "My dad being a good role model to me, I want to become a good father as much as he was. I want to look after my parents and be happy in life."