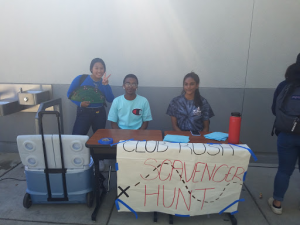 By Maisha Mostafa 
Staff Writer | The Pacific Times
NP3 High School held its annual Club Rush event on Friday, Sept. 13 to encourage students to join the clubs on campus.
The school schedule was changed for this event, providing a 45-minute lunch for students to visit the different booths.
The booths were set up in the quad area. Students were allowed to visit the booths after their Advisory class. 
At the booths, the club presidents and officers talked to interested students about their clubs and related activities. Some booths had posters to help advertise their clubs like Key Club and Muslim Student Association while others handed out informational flyers to the students. 
Many of the booths also engaged with the students through a series of games like the Kpop Club which played the game "Guess that song" and offered a prize of a photo card and a snack.
According to student government Communications Officer Zara Afridi food provided by booths was free this year. Clubs like BSU gave out pizza, and the Muslim Student Association, which gave out cookies, persuaded many students to check out their booths.
This year, a total of 18 clubs were approved by student government:
Anime Club



Creative Writing Club
 Debate Club




Muslim Student Association
Operation Smile
Queer Pride Alliance Club
Volleyball Club
At the event, students were also given the chance to sign up to participate in the Homecoming Game and Spirit Squad.
If you are interested in any of the clubs, make sure to keep updated with the announcements.